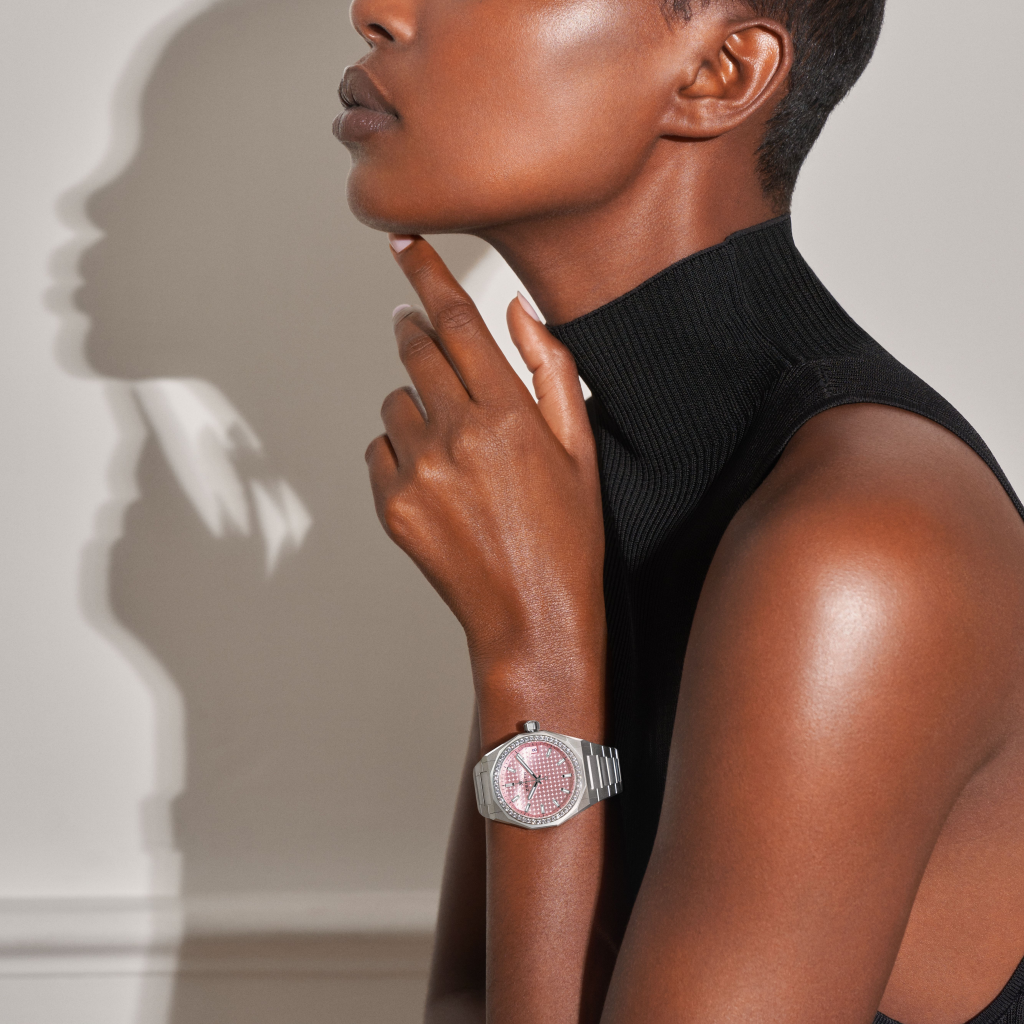 Zenith's presentation this year was all about its Defy collection, more specifically the Defy Skyline range, and its single-minded focus was justified. Introduced in early 2022, the relatively young series quickly became a hit, with demand reportedly outpacing supply, and the Swiss brand is now following up with the sophomore Defy Skyline releases. "It became one of the top bestsellers overnight, I would say," states Julien Tornare, president and CEO of Zenith. "So logically, people were expecting to have this watch in a skeleton version [next]."
And not just a typical skeleton concept. "Of course, because it's part of the Defy collection, which is very contemporary, [fans] did not want us to go on the classic approach of the skeleton; they wanted something very modern, an engine- type skeletonised movement, and that's exactly the approach we took, because it's the right fit for Defy," Tornare explains.
Read More: Liu Yifei Goes High Glamour As Bulgari's Global Brand Ambassador
The Defy Skyline's overwhelming popularity stems at least in part from its versatility. "It's definitely about modernity and innovation, but it's also a watch—whether you go for the plain dial or the skeleton dial—that's very wearable for any occasion," he elaborates. "You'd like to have a watch [that's widely adaptable because] you don't want to change your watch for every type of activity you have during the day, or [in going from] day to night."
Though Zenith novelties are well-received and in high demand, Tornare accepts that perfection cannot be hurried. "Sometimes I wish we were producing T-shirts, that way it would be less of a headache!" he quips. "But we are making complicated watches that require very high-end skills and that sometimes require more time. I'm the first one to be impatient and frustrated sometimes but it's part of our job so
we have to accept it."
Read More: Chanel Watchmaking's Latest Inspiration? The Pin Cushion
Defy Skyline Skeleton: The Defy Skyline, launched last year, was inspired by the energy and edginess of cityscapes at night, and now the Defy Skyline Skeleton
takes things up a notch with its imposing, machine-like expression. A modern interpretation of the skeleton watch, it features a robust 41mm steel case and a symmetrical open dial, in blue or black, distinguished and dominated by the four-point star design—the brand's logo that has appeared on its Defy casebacks, inspired by its double-Z logo of the '60s. A 1/10th of a second counter sits at 6 o'clock, making one revolution every 10 seconds, while the high-frequency El Primero calibre 3620SK, featuring an automatic bi-directional winding mechanism and five-point star-shaped rotor, keeps the timepiece humming along, with a power reserve 60 hours.
Defy Skyline 36mm: Though the Defy Skyline 36mm has smaller proportions compared to its predecessor, a substantial 41mm, it continues the latter's faceted steel case and 12-sided bezel. The mid-size watch is distinguished by its variety of dial colours: deep blue, like the 2022 model, and now pastel pink and pastel green too, the latter two found on a polished and then satin-brushed metallic base emblazoned with a fine pattern made up of engraved four-point stars. Available with or without diamonds set on the bezel, the Defy Skyline 36mm runs on the Elite 670 automatic movement, with a power reserve of 50 hours, and the quick strap-change mechanism allows for switching between the steel bracelet and a rubber strap.
Defy Skyline Boutique Edition: The first boutique exclusive edition of the Defy Skyline, this 41mm timepiece features a 12-sided bezel reminiscent of the early Defy watches from 1969. The anthracite dial is engraved with a pattern of four-pointed stars, which are then plated with rose gold, to create a motif that subtly references a star-studded night sky, and complemented by rose gold hands and hour markers. Fitted with the El Primero 3620 automatic high-frequency calibre and a 1/10th of a second indicator, the Defy Skyline Boutique Edition boasts a power reserve of 60 hours.
This article originally appeared on Grazia Singapore.
Read More: 4 Classic Watches Remixed—With A Twist