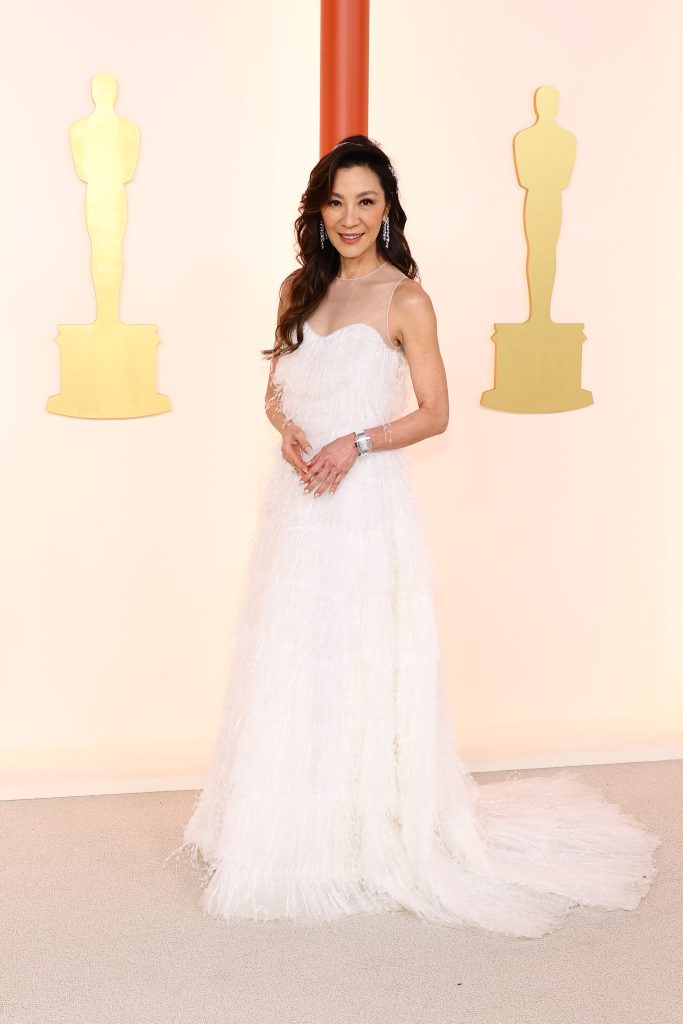 UPDATE MARCH 13, 2.23pm AEST: Michelle Yeoh has won the Academy Award in the Best Actress category. In her acceptance speech for the 2023 Academy Awards, Yeoh dedicated her award to her mother.
"Ladies, don't anybody tell you you are past your prime," Yeoh told the audience to roaring applause. "I have to dedicate this to my mum – to all the mums – in the world because they are really the superheroes and without them, none of us would be here tonight. My mum is 84 years old and I am taking this home to her. She's watching now in Malaysia. I love you and I'm bringing this home to you."
ORIGINAL STORY March 13, 11.33am AEST: As Michelle Yeoh arrived at LA's Dolby Theatre for the 2023 Oscars, she put on a breathtaking display in Dior couture. Tipped to be a huge night for her career—and for all of Hollywood—the Best Actress nominee looks ready to finally stake her claim.
Having exploded onto Hollywood's radar in the early 2000s for roles in blockbusters such as Crouching Tiger, Hidden Dragon and Memoirs of a Geisha, Yeoh has had an incredible career. But though it's indisputable that she has always been an incredible force of talent, critical recognition in Hollywood has only come about in the last few years. And tonight, the actress is slated for the coveted Best Actress award after landing several awards and accolades for her outstanding performance as Evelyn Quan Wang in the A24 film Everything Everywhere All At Once.
Read More: Singapore's Top Celebrities Turned Out To Celebrate Panerai And Razor's Pop-Up
According to the buzz surrounding the awards, fans guess it will likely come down to first-time nominee Yeoh and two-time winner Cate Blanchett for her leading role in Tár. If Yeoh prevails, she will be the first Best Actress winner to identify as Asian. The Malaysian-born actress has already made history just by being nominated.
Of course, with all of Hollywood's eyes on her, Yeoh has not disappointed in her red-carpet fashion. Earlier this year, she stunned in a blue sequined peplum gown by Armani Privé at the 80th Golden Globes. Then, at the Screen Actors Guild Awards—where she also took home the win—she went for gold in a fringed look by Schiaparelli from the house's spring 2023 couture collection.
Read More: Lucia Pica On The Romance Of Byredo's First Emotions Collections
And for her big night at the 2023 Oscars, she has outdone herself.
Donning a delicate white feathered princess gown with sheer panelling, Yeoh looked like a winner in Dior. Complimenting the dress were some seriously sparkly accessories, including diamond earrings and a matching ring the size of a fist, as well as a jewel-encrusted watch with a white leather wristband.
Hair was parted to the side with loose barrel curls that were amped up by a crystal headband. Her makeup was classic, with rosy cheeks, pink lips and dramatic lashes for an ethereal look, while her nails were given a pearlescent finish.
Read More: Dolce & Gabbana's Fine Jewellery Is An Explosion Of Gems And Charms