One of the most important things you should know about Carrie Gross isn't the already well-documented fact that she's the CEO and co-founder of Dr. Dennis Gross and neither is it that she inspired the world's first gentle acid peel.
It is that the skin-care savant has incredible skin for someone who has and is currently spending much of her career ping-ponging across the globe with all the terrible skin afflictions that can come with different terrains.
You can attribute Carrie's skin—so glowy and smooth that I was surprised she only just landed in Singapore when we meet—to Dr. Dennis Gross's skincare products but in this interview, she lists down some holistic ways she keeps her skin and body in check, things to do in the Big Apple where she hails from, and of course, her steps to travel proofing a skincare routine with the best-of from the American brand.
ALSO READ: The Decadent Dream of SOVA's Silk Sleeping Products
1. A cleanser that removes city pollution.
I love double cleansing with our Alpha Beta AHA/BHA Daily Cleansing Gel because it removes makeup, sunscreen, dirt and impurities without stripping the skin.
I start with a pea-sized amount, add a little water and work the gel into a lux, lotion-like lather on my skin. This starts to breakdown any build-up on the skin surface so it can be easily washed away. Then I add more water, transforming the cleanser into a bubbly foam to catch any spots I may have missed.
After I rinse it all away, my skin is prepped and ready for my next targeted skincare treatment.
2. A purifying mask for on-the-go treatments.
The first thing I do every morning is treat with the DRx SpectraLite FaceWare Pro. This LED mask uses a combination of red and blue LED lights to stimulate collagen production, increase skin density, smooth fine lines and wrinkles and clear blemishes before they turn into breakouts.
Red LED light works to decrease redness and inflammation and ramp up collagen production. Blue LED light kills acne-causing bacteria without triggering any dryness or irritation. The treatment is only three minutes daily, so I use this time to set my priorities.
Once the treatment is complete, I am ready to tackle my goals for the day.
ALSO READ: Zenith's "DreamHers Mentoring Programme" Wants to Take You to the Stars
3. An acid-based product for efficient cellular turnover.
I live for my Alpha Beta Extra Strength Daily Peel. I use the Extra Strength every morning to build collagen for stronger, brighter skin. The Alpha Beta Extra Strength Daily Peel is a two-step peel system that uses a combination of AHAs and BHAs in step one and soothing, repairing active ingredients in step two.
This 2-step system is the safest and most effective way to exfoliate at-home without causing redness, irritation or downtime. Our clinical studies also show that the Alpha Beta Extra Strength Daily Peel does more than just exfoliate.
With continued use, it increases skin density, diminishing the appearance of wrinkles, lines and crepiness.
I like to pair our Alpha Beta Extra Strength Daily Peel with our Advanced Retinol + Ferulic Overnight Texture Renewal Peel because together they dramatically smooth and repair the skin as its rich in retinol, ferulic acid, rambutan leaf extract, and bakuchiol
Every other night, I use it to stimulate cell turnover, fade hyperpigmentation, firm skin and reinforce the moisture barrier.
Both peels work in different ways to stimulate cell turnover and I found that having both in my regimen gives my skin a smooth, supple texture.
ALSO READ: The Ace Hotel's Brooklyn Outpost Adds Style, Substance And Ingenuity to New York's Coolest Borough
4. The best place for a massage in New York.
I think it is important to have a place for self-care to learn about your skin and get in touch with what works for your routine, which is why I love to escape city life with a visit to the serene spa in The Ritz-Carlton NoMad.
After a signature massage, I stop in the treatment room for a Dr Dennis Gross Skincare facial. The combination of facial massage with high performance skincare is the ultimate boost for my regimen.
I leave the spa feeling rejuvenated and with glowing, radiant skin.
5. The best place for a relaxing dinner in New York.
Whether it is a date night with Dennis or my girlfriends, I love The Mark Restaurant by Jean-Georges. The food is simple and delicious—steamed veggies, light fish, and the classic kale salad are just a few of my favourites.
If you find yourself on New York's upper east side, The Mark offers a relaxing atmosphere to grab a drink or share a meal.
ALSO READ: Alexandra Alberta Yeo: Under-the-Radar Gems Can Be Masterpieces Too
6. The best place for holistic healing treatments in New York.
About twice a month you can find me at Clean Market (240 E 54th Street) stocking up on vitamins or getting an immune-boosting treatment. I love this wellness lab because it allows me to take care of myself in a few different ways from cryotherapy to IV drips.
They just added a lymphatic drainage treatment that I cannot wait to try out.
7. The best drink to keep her energy going even when she's jet-lagged.
As I am writing this, I am drinking my go-to juice from Juice Press, Ginger Turmeric Tonic! I am a little jet-lagged coming back from my recent trip to Singapore, so I had to stop by Juice Press for a fresh tonic this morning.
I love having this juice nearby because it reduces inflammation and strengthens my immune system. It combines ginger, raw honey, cardamon, cayenne pepper and other spices to heal and fight off foreign infections.
If I am not near a Juice Press, I rely on honey – all types including manuka, raw, royal jelly – to boost my immune system and keep me feeling healthy.
ALSO READ: The Best Brightening Products To Try Right Now
8. A sunscreen that works across different climates of different countries.
I never go a day without our All-Physical Lightweight Wrinkle Defense Broad Spectrum Sunscreen SPF 30 PA++++. It is very important to wear sunscreen every day (rain or shine) because unprotected sun exposure accumulates over time, eventually showing up on the skin surface as wrinkles, lines, dark spots, chronic dryness, and dullness.
This oil-free, fragrance-free sunscreen is lightweight and absorbs beautifully into the skin, perfect for everyday use. Dennis also added antioxidants and hydrating ingredients to repair sun damaged skin while preventing new sun damage from happening in the first place.
Whether I am traveling to Singapore or Canada, I always have this sunscreen close by.
9. The best podcast to help her mind relax.
My all-time favorite podcast is The Skinny Confidential Him & Her Podcast. Dennis and I love Michael and Lauryn as a couple and enjoy listening to their insightful and fun interviews. They cover a variety of topics about life, love, finances and more, in an open, friendly way.
New to my list is On Being with Krista Tippet. My daughter recently recommended this podcast to me, and I have found some very interesting guest interviews – from professors to poets.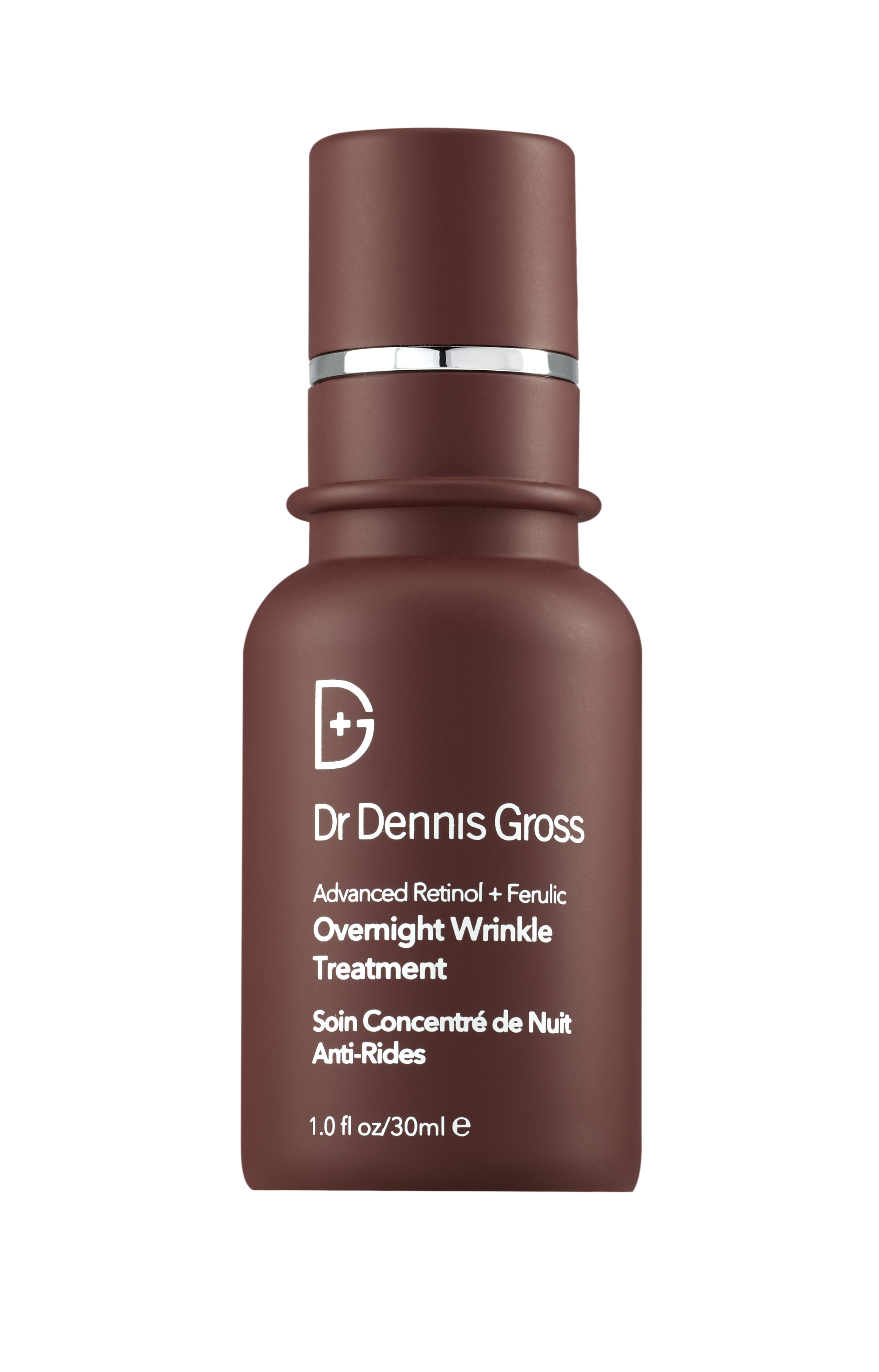 10. A leave-on mask that soothes the skin.
A few times a week I boost my skin recovery with the Advanced Retinol + Ferulic Overnight Wrinkle Treatment. This overnight, leave-on mask is a soothing treatment that supports the skin's natural reparative processes and even prevents transepidermal water loss.
During sleep, the skin goes into repair mode and even creates new skin cells. Overnight Wrinkle Treatment takes advantage of this by supporting the skin when it needs it most. Retinol, ferulic acid, rambutan leaf extract, bakuchiol, and niacinamide all work together to visibly firm and strengthen the moisture barrier overnight.
When I wake up in the morning my skin feels soft and rejuvenated.