Cécile Lochard has always felt it incumbent to be, in her own words, "someone who helps with any activity that goes on instead of being an orchestral conductor"—which perhaps explains her 25‑year career spanning different industries, from finance to wildlife conservation to beauty.
While the sectors in which she plies her trade varies, her work itself has always been anchored by the concepts of social responsibility and sustainability—as demonstrated in her early role as a finance officer practising in socially responsible investment at HSBC Asset Management, as well as her latter ones as a corporate fundraising manager and then the head of philanthropy at The World Wildlife Fund for Nature,
followed by the head of corporate social responsibility at LVMH‑owned skincare brand Cha Ling.
She also founded the consultancy firm Citizen Luxury, which helps organisations strategise their sustainability and philanthropic efforts, in 2011. Its first client, incidentally, was French beauty brand Guerlain, where she now works as chief sustainability officer, a position she has held since March 2020.
On her decision to accept a full‑time role at Guerlain in January 2019, Lochard says over a Zoom call: "I just wanted to make an impact and choosing this job was the best thing I did to do so."
Read More: Mother's Day 2023: The Best Beauty Gifts For Every Budget
And make an impact she did. Lochard's milestones at the brand so far include pioneering the usage of organically farmed alcohol in perfumes ("It was an obsession," she says.) as well as reformulating its bestsellers such as the Terracotta Bronzing Powder, which now boasts a 96 per cent naturally derived
formula.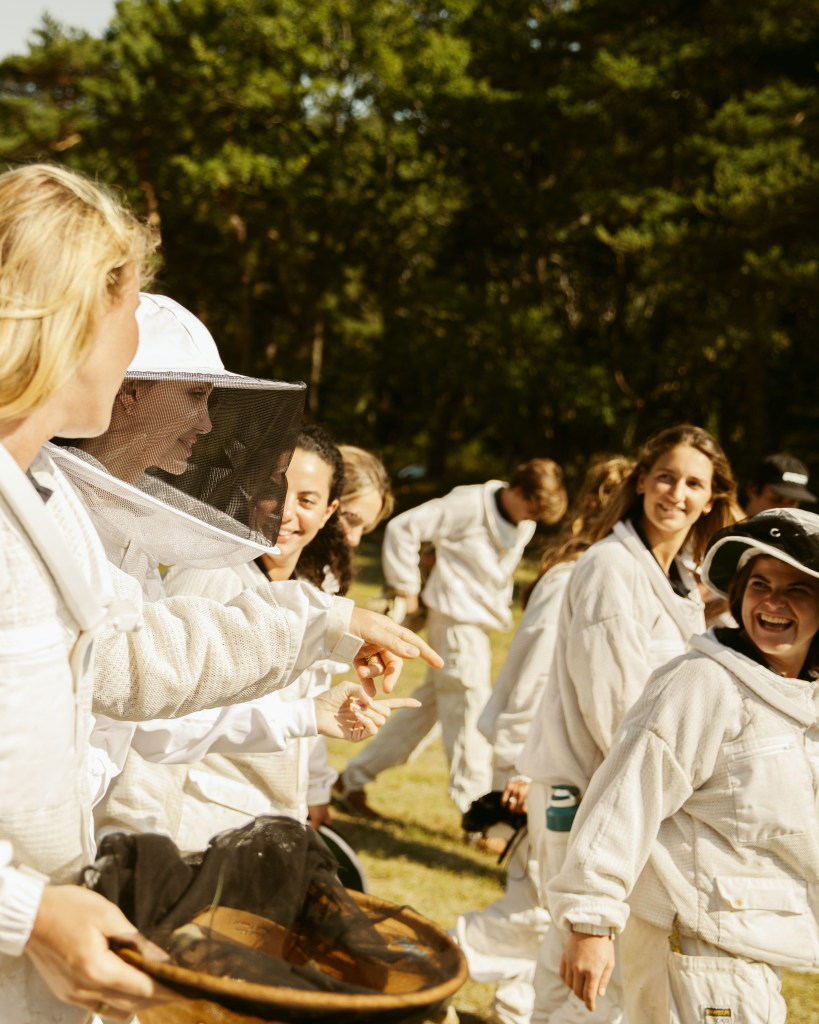 Most importantly, she is spearheading Guerlain's Sustainable Board, a 13‑strong committee comprising leaders in various industries whose mission includes helping the brand develop and implement strategic initiatives in its sustainability drive.
Here, Lochard shares more about her green mission at Guerlain, the importance of bees—a subject close to the brand's heart since 1853—and more.
Read More: Director Amanda Nell Eu Talks Tiger Stripes, Inclusivity, And Cannes Film Festival
What does sustainability mean to you?
It's a word that's synonymous with our future, the way we should be living our lives, and something that companies should be aiming for with the products they offer.
As Guerlain's Chief Sustainability Officer, how are you pushing the issue at the brand?
Sustainability isn't a vanity word at Guerlain; it has been in the brand's DNA for nearly 200 years, as we're still borrowing from nature and depending on it for resources. I've been an advocate of sustainability for 25 years.
At Guerlain, we have this immense chance because we understand that our role as part of the maison's sustainability team is to accelerate a transition to sustainable offerings and make them more
visible to the public. It's also my role to make sure that our bee initiatives aren't a smokescreen for the real work we're doing.
However, we're not perfect at the moment, as we're constantly learning and testing. The industry is moving fast, but we have to constantly be authentic in the way we practise sustainability. We remind ourselves that this is where we are and where we have to go, and that we also need to be transparent with what we do.
In its commitment to preserving biodiversity, Guerlain has always been especially passionate about protecting bees. Why is this so?
My sister lived in Singapore, so I know Singaporeans love to eat! Now think about what we're dependent on when it comes to food. Bees! Our food security is dependent on bee pollination; most products such as fruits and vegetables are all dependent on their seeds being pollinated by [bees].
Even the coffee you drink comes from cocoa beans that are pollinated by bees. If they go extinct, you'll most likely have a mono diet consisting just of things such as potatoes, bananas and pineapples, because even the animals we eat are dependent on produce that comes from pollination.
As part of its efforts, Guerlain launched the Women For Bees Initiative—a beekeeping entrepreneurship programme for women that aims to train new female beekeepers—in 2020. What's your hope for it?
That [the programme] becomes a circular one, where everything the bees produce, such as propolis and hive‑derived products, can be used in the Abeille Royale range; so that whatever the bee produces can be fully used. That'll be super nice.

How do you see your role changing in the future?
I actually believe that my job won't be necessary in 10 years' time because sustainability will be a natural state of mind for everybody [by then], no matter the industry they work in.
But for now, at Guerlain, we've also developed the Guerlain Sustainability Academy, where everybody [in the house], from [those in] marketing to the packaging designers, is trained on how to think and work sustainably.
This article originally appeared on Grazia Singapore.
Read More: Leanne Robers Named Monte-Carlo Woman Of The Year